Canada - Make up your own adventure
Fishery

•

Fishing

•
Fishing tours
Introduction
If you are more experienced fisherman and traveller and you prefer individual solution this is the right choice for you. Make up your own adventure! British Columbia offers thousands of places to explore and it is only up to you how you manage your time. You can go fishing or visit local countryside or combine the both.

We offer you to get round this part of Canada in a "motorhome" hired and chose the attractions you are looking for. We recommend this type of adventure also for family members and friends or you can use it as an inspiration for untypical family holiday.


Accomodation
We are able to provide an appropriate caravan for you. We divide these motorhouses into three categories:
Small (cca. 6 m) - for max. 2 people and a child

Middle sized (cca. 7 – 9 m) - for max. 4 people and 2 children

Large (more than 10 m) – for max. 4 people and+ 2 children

All motorcars are maximally 3 years old and in a perfect condition. The kitchen is full equipped with a refrigerator and a microwave oven. There are: air conditioning, TV, lavatory and bathroom with a shower.


The person who wants to hire a motorcar has to own an international driving licence and a valid credit card. (VISA, Mastercard,..) The price of the car includes: sheets, local fees, VIP instance and 100km/day. The rent of the car is possible during the all – year time period. Standard departure stop is in Vancouver but we can also pick you up in other cities (Calgary, Edmonton, Whitehorse, Toronto, Halifax, Montreal).

Fish hunting
Fishing season is depended on water stage and usually starts in June and finishes at the end of October. You can fish on the rivers Fraser, Kitimat, Squamish and Meziadin. You can also choose a different place.
Fishing techniques are: muškaření, přívlač a plavaná. You will get detailed information together with accommodation information.

Kinds of hunted fish:
Chinook salmon (king) 10 - 30kg.From July till August, sometimes in affluent in October and November.
Coho salmon 4 - 10kg.
Pink salmon 2 - 4kg. There are 30 million pieces in rivers in odd years.
Steelhead
Chum salmon (dog) 3 - 10kg. Very fighting kind. September till the end of October.
Sockeye salmon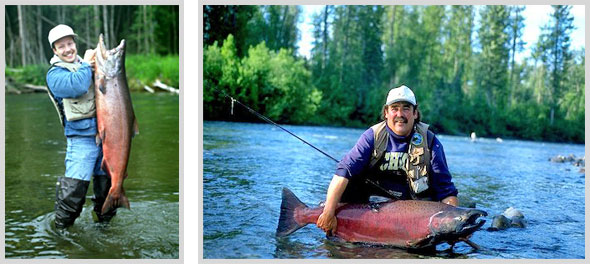 White sturgeon 20 - 500kg. From July till November. White sturgeon is hunted on the river Fraser under the guidance of local professional fishing instructors. You have to hire a boat. Hunting of this fish is not included in the price but it is possible to manage. The rent of fishing instructor and a boat for 4 people is from 600CAD/day. We use na položenou with rods of 50-80lb and multiplier. Fishing licence, baits and equipment is included in the price. All sturgeons are released back with the technique catch&release.

You need a fishing licence for hunting salmons which costs (cca 70CAD). On the base of this licence a fisherman can keep 1-2 fish a day.
Routes
There are several routes you can choose from. We have prepared the most interesting places in British Columbia.
Route A: BC a Rocky Mountain tour
Places to visit: Vancouver - Whistler - Wells Gray Park - Jasper - Banff - Kelowna – Vancouver
13 days in the most attractive localities of British Columbia and in national parks of Rocky Mountains. Camping and bed will be reserved for you during all tour. You will get all information about places you are going through there. We can give you more detailed information about the tour.
The price starts on 900CAD + fees for two people. The rent of motorhouse is not included.
Route B: Vancouver Island tour
Places to visit: Vancouver – Victoria - Goldstream Provincial Park – Nanaimo – Tofino – Courtenay - Vancouver via Horseshoe Bay
8- day long tour where you visit the most interesting places on the west of Vancouver and Vancouver Island. There you can chose which place for camping is the best for you here. We are able to give you detailed information about the region.
Transport
By plane
There are regular links of flight companies from Prague or Vienna to Vancouver. You can also take a direct charter flight from Frankfurt. The prices are from 20000,- Kč/person including fees.

Plane – ticket prices are dependent on free reservation classes in a concrete flight. We recommend booking your flight in earlier time period.
You can also use our on-line reservation system where you can get profitable flight tickets.
Prices
The cost of caravans are from 15 000,- Kč / week. This cost depends on actual season course of Canadian dollar. Sheets, local fees, VIP insurance and 100km/day are included. The price does not include: fuels, routes, food, fees for camping. Contact us for actual offer and pricelist.
Salmon licence costs 70CAD.
You can buy more services and trips:
Fishing of white sturgeon - from 600CAD/day. The price includes a boat for four people, guide service, licence, fishing lures and equipment.
Sight-seeing tour above Vancouver – 80CAD
Whale observation
Deep fishing on the sea
Actual course : 1CAD = 17,50Kč
We can manage travel insurance if they are still required for Czechs.