USA - Texas
Fishery

•

Fishing

•
Fishing tours
Introduction
If you would like to catch the biggest fresh water fish in Northern America your steps should lead to Texas. The Alligator gars (Atractosteus spatula) live here. This predator with its prehistoric appearance measures up to 3m and weights (181kg)!!!
There is a very small fishing pressure on Alligator gars here. It is not usual to meet a fisherman and that is why Aligator fish have abnormal sizes.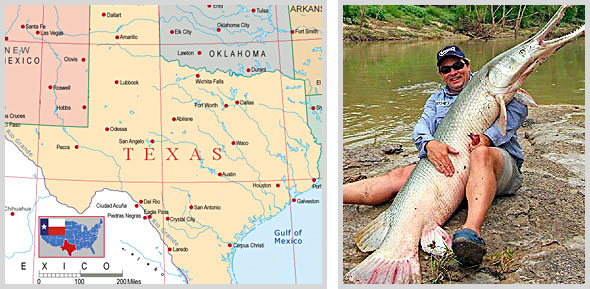 Unfortunately for Aligator gars, Texas is also home for profesional fishing guide Kirk Kirkland. He has been hunting Aligator gars for all his life and his personal maximum is Aligator gar with 365 lb(165kg) and 2,7m long. He is known as the most successful hunter of these fish all over Texas and the reference about him achieve time on National Geographics and Discovery Channel. You have the only posibility to use his service and experience your great life catch now.

Accomodation
Fishermen are staying in town of Trinity which lies about 80km to the north from Houston and where Kirk Kirkland has his house. We can provide a transfer from the airport to the hotel if you require. We make all- day- trips for hunting Aligator gars. Your guide picks you up in the morning and take you to his favourite fishing districts.
We are able to manage the accomodation on the basic of your preferences and comfort required. The price for two-bed apartement with breakfast is from 50USD/night/room. Fishermen pay for their own food for the rest of the day.

We recommend to rent your own car. That way you can visit interesting places in the neighbourhood together with the fishing combination, for example NASA space center in Houston or rodeo show.
Fish hunting
We go fishing on the river Trinity or to the near lake Livingston. The season starts according to the water-stage usually in May and finishes in the middle of October. Maximum number of fishermen for one term is 6 people.

Fishes and fishing techniques:
Aligator gar is the most hunted fish in this area which weights up to 200kg. We bar fish for fillet or a piece of dead fish . A fisherman follows a fish after a catch until it stops and starts eating its prey. To have the successful catch this is the best time.

You can see Longnose gar and some smaller gars when waiting for Aligator gar. These other kinds are possible to fish for a hook. You can also spin.

You can also be successful with fishing local kinds of sheathfish, carps and lizard fish even if we are not specialized for them to hunt. We used techniques of float fishing and bar fishing.
Fish hunting is realized from the boat. Your guide provides all fishing equipment. Fishing lures and baits. You are allowed to use your own equipment of course. We reccommend heavy spining rods with throwing minimum load of 100g , tackles or multipliers with plaited string line with minimum load of 35kg.

Transport
There are regular flights of air plane companies (Delta, KLM) from Prague or Vienna with change in Houston.
The price of plane tickets is from 13000,-Kč including fees.
We provide the car for rent for you.

Plane – ticket prices are dependent on free reservation classes in a concrete flight. We recommend booking your flight in earlier time period.
You can also use our on-line reservation system where you can get profitable flight tickets.
Prices
The price for one day of fishing for two people with profesional guide on the river Trinity is 9900,-Kč and includes: guide service, boat rent, transport from/to the place of fishing, lending of fishing equipment, fishing lures and baits. The price is same for only one fisherman on the boat.
Permition to fish: 55USD per person.