Croatia
Fishery

•

Fishing

•
Fishing tours
Introduction

We are sure that you go to Croatia on sunny holiday. It is time to change it. Fishing in Croatia is one of the best.
Croatia is famous for its numerous islands and pure water. It is a pearl of Mediterranean and a very popular tourist destination. The Adriatic Sea is 783 km long, 16,7 km wide with an average deep of 173 m. Total lenght of the coast is 7.912 km with more than 1700 isles and peninsulas.
Hardly anybody knows that the district of Middle Dalmatia has the perfect conditions for fishing. The area of Vodice where our fishing base is situated is the best choice for your fishing. Vodice is a very popular seaside resort. There is a large port in the city center that is attractive for tourists. Visitors visit close islands of Trijat, Žirje, Kaprije or Zlarin from there. Prvić and Vodice towns are the starting bases to visit the National parks of Kornati or Krka.

Fish hunting
The main fish to hunt in the Adriatic Sea is bluefin tuna that is valuable sportive fish. The exemplar of 20kg checks your skills and physical form. We hunt fishes measuring 70-500kg!
Other fish hunted: dorado (mahi mahi), amberjack (kranas), tuna albacore, marlin and various kinds of sharks.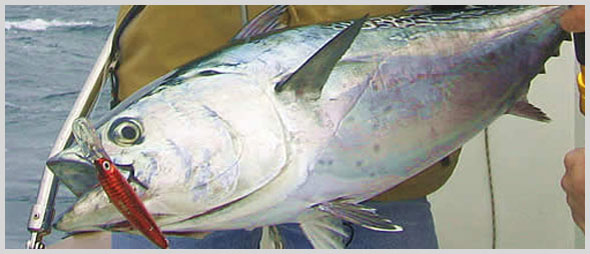 Fishing season starts in April and finishes in November. Smaller types of tuna and sharks are hunted from April to August. Quantity of fish is in this season considerable and there is a chance for a plentiful catch. April and May are also perfect months for fishing amberjackes.
The best time for fishing and uncredible trophy draught begins in August and continues till November. We hunt bluefin tuna (up to 500kg) and dolphin fish.
Big Game Fishing
Fishery of tunas, marlins and sharks.
All- day fishing that starts at 9 am, trolling until 1pm, then there is lunch and drifting to 6 pm. Arrival back to the port at 7 pm. During the fishing you can enjoy the fishing of small kinds of fish.
Price includes: petrol, drinks, fishing licence, fishing lures and fishing equipment – rods and trolls of 80 and 130lb.

Intermediate Big Game Fishing
Fishing of small tunas, albacore tunas, pelamids (wahoos), dorados, amberjackes and toothfish. All-day fishing starts at 9 am ( we can change time after the deal with you ). Trolling with animated and false lures till 1 pm for fishing amberjackes and toothfish. Then there is lunchtime and a tour to the open sea, fishing of tunas until 6 pm.
The price includes: petrol, drinks, fishing licence, fishing lures and fishing equipment – rods and trolls of 30 and 50 lb. There is a possibility to use own equipment.

Fishing takes place in archipelago of Kornati isles and in the areas around Blitvenica and Žirje islands. Everything is in the range of 15Nm from Vodice town. We can provide some trips for those who do not go fishing. Day trips on the boat to the Kornati islands or to the river Krka are nice options for swimming and diving. We can organize barbecue on the island you chose by yourselves.
Boats
Boat Bakul ( Beneteau y. 2007), lenght 11m and 3,5m wide with flybridge, max. speed 25 N. There is a large cabin and it is full equipped for fishing of the Big game type. In the cabin you can find lavatory, shower and 4 beds (2+2). Boat fishing equipment includes: trolls Shimano Tiagra 80 in combination with 80lb rods PENN, 5 tolls Shimano TLD25 in combination with 30-50lb stand-up rods and others. A fighting chair and fist-class gaffs are available to borrow.
The boat crew consists of captain and his assistant. The captain has got 15- year experience with fishing in the Adriatic Sea and we can show you its hot spots with pleasure.

Accomodation
We provide accommodation (including transport in a luxury bus from different departure spots in the Czech republic) in several apartments and in studios in Vodice.
Villa Ferara (apt. for 2-3 people and apt. for 4 people)
Villa Slavica (apt. for 3 and apt. for 4 people)
Villa Tanja (studio for 2 people, apt. 4-5 people and apt. 6-7 people)
The apartments chosen are situated from 400 to 1000 m southern from the city center Vodice in calm villa quarters. Renovated villas and apartments are new with different typology and high quality furniture. Pebbly, stony and cement beaches with tidied enters. They are 400-800 m far from the housing.
All apartments have full equipped kitchens, bed clothes and towels. Once a week there is a final cleaning. (Clients clean the kitchen themselves).
We offer other apartments and houses for stay under the No-name system. Typology: Ap. 1/2+1, Ap. 2/2+1, Ap. 3/2+1.
We can provide a type of house according to individual client requirements.
Accommodation prices of actual season from 2000,-Kč/person/week.
Transport
In a car – usually individual transport. Distance from the Czech republic is about 1000km. You go on the main road almost all the time. We recommend the route Brno-Wien-Graz-Maribor-Zagreb-Zadar-Šibenik-Vodice.
On a plane –regular flights and charter flights from Prague and Ostrava to Zadar or Split. Prices from 5000,-Kč/person.
The possibility to rent a car in place.

Plane – ticket prices are dependent on free reservation classes in a concrete flight. We recommend booking your flight in earlier time period.
You can also use our on-line reservation system where you can get profitable flight tickets.
Prices
The cost of 650 euros per a day includes: Boat rent for 4-5 people with captain and skipper, fishing licence, petrol, beverages, non alcoholic drinks, fishing equipment, lures and baits.
Contact us for the prices of individual half-day, tourist and fishing trips please. E-:mail: info@worldfishing.cz or telephone: čísle +420 732480630.