Canada - river Fraser
Fishery

•

Fishing

•
Fishing tours
Introduction
The Fraser drains a 233,000 km² (85,000 sq mi) area. Its river system products the greatest number of salmons in the world. We can also find the big population of white sturgeons. Thanks to rigorous protection of the river Fraser and fishes at British Columbia coast, river Fraser is the most important salmon river on our planet. There we can fish Pacific salmons, rainbow trouts and their migrant type –steelhead. Gigantic sturgeons are waiting for hunters of really big fish.
Fishing areas are easy to get and professional access of local guides with number of hunted fish offer to our visitors intensive fishing experience. The most of fishermen become tired after four days of fishing because they have never caught so many fishes before.
Western Canadian province of British Columbia is considered to be the most beautiful part on the Earth. You can combine fishing adventure on the river Fraser with trips around.

Accomodation
Lodge Fraser River´s Edge ****.
The lodge is situated at the bank of the river Fraser with a spectacular view to the surroundings. One-bed, two-bed rooms or apartment are available and you can use sauna, jacuzzi on the open terrace. Some rooms are equipped with kitchen, there is a possibility of preparing your own meals. In all the rooms there is wi-fi.
Fishermen are picked up to the fishing areas straight from the lodge.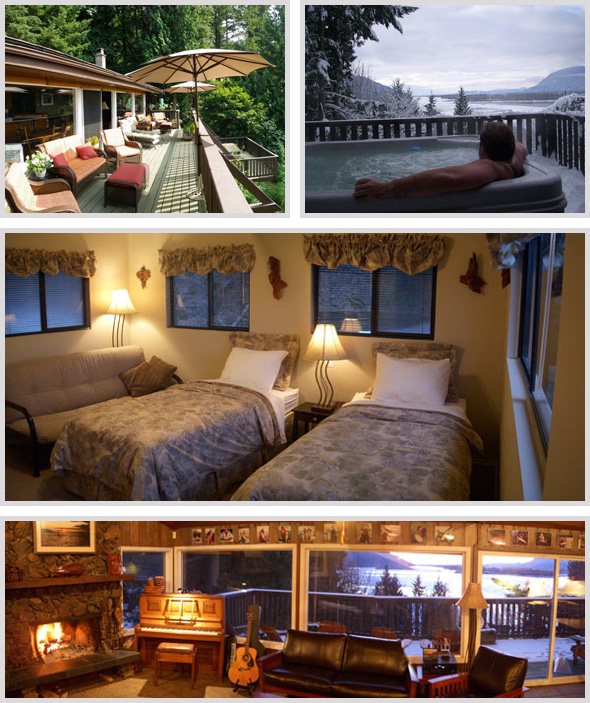 Included: breakfast at the lodge, lunch (sandwiches) + refreshment and alcohol during fishing on the river.
Dinner customers procure their own at nearby restaurants - in response to the fishing program, according to the current tastes and moods, or they prepare food themselves. The owners of the lodge are excellent cooks, they can prepare a dinner for the clients. About a dozen restaurants are located within 5 km from the lodge.
This accommodation we recommend for its friendly and homely atmosphere, we are sure that you will love the stay here and you will be happy to return here.
The owner of the lodge offers a scenic boat trips on nearby rivers and lakes, wildlife observation connected with barbecue and fishing - for the current offer and reservations, please contact us.
or the golf lovers, we offer golf packages for the surrounding grounds - green fee prices from 45CAD, including rent a motor cart.

For the clients who prefer to be accommodated in a hotel, we offer the opportunity to stay at a local hotel Best Western Rainbow Inn or Travelodge. In the Travelodge hotel rooms are with the kitchens, both hotels offer free wi-fi, swimming pool or spa. Clients of the hotel are transported by the guide to the places of fishing.

Fish hunting
Fishing district
Powerful river Fraser embouchures to the Pacific ocean near Vancouver. Fishing of salmons and sturgeons takes place right on the river Fraser and it depends on fish migration, eventually on inflows.
Guides take fishermen to the fishing districts on the motor boats. Transfer time takes from 5 to 40 minutes.
It is possible to fish trouts in close lakes.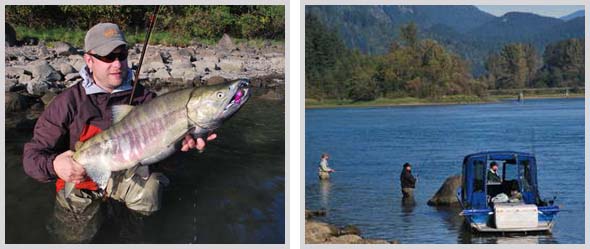 Fishing techniques
Fishing of sturgeons for natural lures under the control of the guide.
Casting or false fly-fishing of salmons. Close fishing districts are ideal for fly-fishing and some for casting.
Fishing guides provide complete equipment and fishing lures for hunt of sturgeons. Equipment for casting and for fly-fishing is available after agreement. You can also borrow waders and special trousers.
Local guides are very professional and they will help you to get a trophy catch. Even beginners and amateurs can learn some basics and have a great time here.

Kinds of hunted fish:
Chinook salmon (king) 10 - 30kg.From July till August, sometimes in affluent in October and November.
Coho salmon 4 - 10kg.
Pink salmon 2 - 4kg. There are 30 million pieces in rivers in odd years.
Steelhead
Chum salmon (dog) 3 - 10kg. Very fighting kind. September till the end of October.
Sockeye salmon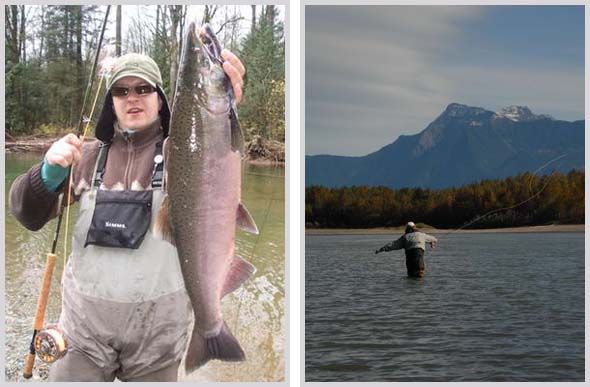 White sturgeon
White sturgeons belong into very old group of fish. Sometimes we can hear the name of "life fossils". The most of sturgeons are in danger because of oversized hunt (caviar) and because of their life conditions. White sturgeon (Acipenser transmontanus) is rigorously protected and its numbers are regulated. They live in the western coast of America from California to Alaska. Sturgeons and salmons flow to Fraser river from the month of July. Salmons are very important component of their feed. The main season for sturgeons is the season from August to December. All caught sturgeons have to be released back to the water. Fishing guides who accompany their fishermen are required to own the licence, respect the strict rules, do measurement and marking of caught fishes. Over 43 000 of sturgeons were marked.
The body of these long monster can grows up to 5 m and weights 800 kg. Even though it seems to be clumsy, sturgeon can jump and be very fast. Standard size of hunted fish is from 1 to 2,5 m (10-150 kg). You can catch about 20 sturgeons in the autumn days. Our guides provide complete equipment. Bar fishing of sturgeons takes place from docked boat f with 50-80-tiliber rods with multipliers. We use salmon pieces or salmon spawn as fishing baits.

Fishing instructors
Fishing on the river Fraser is effective only under the control of local professional instructors that use full equipped motor boss for transport on the river. Only 4 fishermen can be on one boat together with a fishing instructor.
The best fishing instructors we use are members of association that control their qualification, technics equipment and supervise on sturgeon fishing.
Guides or hotel staff can prepare – filet, pack and freeze caught salmons for you.
You can borrow waders and special fishing trousers, all equipment for fishing sturgeons, eventually equipment for salmon casting or a false fly-fish. Everything is included in the price of guide service, You can specify your requirements.

Transport
By plane
There are regular links of flight companies from Prague or Vienna to Vancouver. You can also take a direct charter flight from Frankfurt. The prices are from 20000,- Kč/person including fees.
Car transfer from the airport to the place of stay near the river Fraser takes about 1,5 h.
Professional fishing guides take fishermen to the fishing areas from the place of stay. (15 minutes by car and 5 - 30 minutes on the boat).

Plane – ticket prices are dependent on free reservation classes in a concrete flight. We recommend booking your flight in earlier time period.
You can also use our on-line reservation system where you can get profitable flight tickets.
Prices
Terms
The fishing season: from June to November. Our clients can choose their terms.
Prices
Price for a person in the group of 4 people – 6.500 Kč
Price for a person in the group of 3 people – 8.000 Kč
Price for a person in the group of 2 people – 9.900 Kč
Prices mentioned comprise one day of sturgeon fishing with a professional guide, transport to the fishing districts by car or by boat, fishing lures, fishing equipment to rent, bed in a hotel, breakfast, lunch and car rent to Vancouver airport including instance.
Other pays
One – bed room – 980 Kč/day
Salmon licence about 70CAD.
You can buy more services and trips::
Sight-seeing tour above Vancouver – 80CAD
Whale observation
Deep fishing on the sea
Actual course : 1CAD = 17,50Kč
We can manage travel insurance if they are still required for Czechs.