Kanada - with Tony Cap
Fishery

•

Fishing

•
Fishing tours
Introduction

Fishing salmons and sturgeons in British Columbia with Tony Cap
British Columbia is a province situated in the south-west of Canada. Travellers and tourists can admire wild nature but not only for that British Columbia is considered as the most beautiful place on the Earth. Fishermen have the greatest conditions for fishing on the rivers, lakes or sea here.
Tony Cap is the Czech living in Canada in the province of British Columbia. He offers his guide professional skills for fishermen and travellers. The stay in British Columbia can have fishing character or you can combine sight-seeing tours with fishery. We recommend this type of adventure also for family members and friends.
Accomodation
We use the "motorhome" for six people. There is a possibility to get another one in the case of bigger group size. The great advantage of this accommodation is possibility to transfer depending on fish migration and also the possibility to visit local wonderful countryside.
Full board is included in the price. Alcohol is not.

Fish hunting
Fishing season is depended on water stage and usually starts in June and finishes at the end of October. You can fish on the rivers Fraser, Kitimat, Squamish and Meziadin.
Fishing techniques are: fly fishing, spinning and float fishing.
Kinds of hunted fish:
Chinook salmon (king) 10 - 30kg.From July till August, sometimes in affluent in October and November.
Coho salmon 4 - 10kg.
Pink salmon 2 - 4kg. There are 30 million pieces in rivers in odd years.
Steelhead
Chum salmon (dog) 3 - 10kg. Very fighting kind. September till the end of October.
Sockeye salmon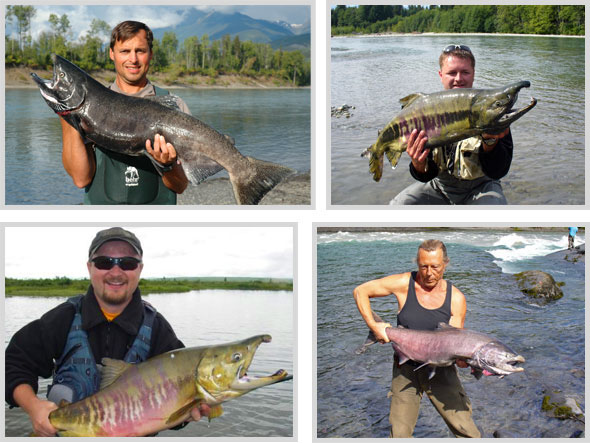 White sturgeon 20 - 500kg. From July till November. White sturgeon is hunted on the river Fraser under the guidance of local professional fishing instructors. You have to hire a boat. Hunting of this fish is not included in the price but it is possible to manage. The rent of fishing instructor and a boat for 4 people is from 600CAD/day. We use bar fishing with rods of 50 - 80lb and multiplier. Fishing licence, baits and equipment is included in the price. All sturgeons are released back with the technique catch&release.

You need a fishing licence for hunting salmons which costs (cca 70CAD). On the base of this licence a fisherman can keep 1 - 2 fish a day. Our guide will be pleased to prepare and cook your fish.

If you wish we can manage a trip on the sea for you – deep fishing, the goal is halibut.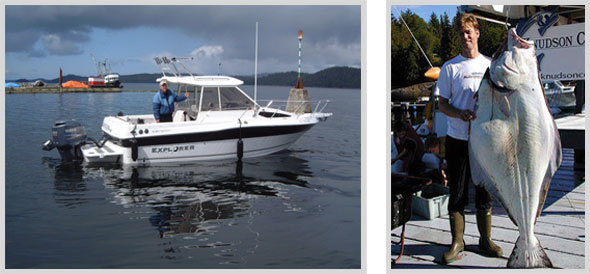 Transport
By plane
There are regular links of flight companies from Prague or Vienna to Vancouver. You can also take a direct charter flight from Fankfurt. The prices are from 20000,- Kč/person including fees.
International flight Vancouver-Terrace from 600CAD – for those who do not want waste time with transfer from Vancouver to northern parts of British Columbia in a car. We can provide a car or a caravan for you.

Plane – ticket prices are dependent on free reservation classes in a concrete flight. We recommend booking your flight in earlier time period.
You can also use our on-line reservation system where you can get profitable flight tickets.
Prices
We recommend to visit British Columbia for minimum of 14 days because of the local distance of fishing districts. Our agency is ready to make up your own tour for any length of time.
The price for 14-day stay 40000,-Kč/person.
The price includes: guide service, accommodation in a "motorhome", fuels, full board, optional trips if you are interested in, visit of Vancouver, one-day trip to Alaska.
Salmon licence costs 70CAD.
You can buy more services and trips:
Fishing of white sturgeon - from 600CAD/day. The price includes a boat for four people, guide service, licence, fishing lures and equipment.
Sight-seeing tour above Vancouver – 80CAD
Whale observation
Deep fishing on the sea
The rent of "motorhome" – for maximum of 6 people, the price from 100CAD/day. Rent, 200 km a day and insurance are included.
Actual course : 1CAD = 17,50Kč
We can manage travel insurance if they are still required for Czechs.