Norway - Soroya - Sorvaer Gjestehus
Fishery

•

Fishing

•
Fishing tours
Introduction
The island of Soroya in the region of Finnmark on the north of Norway offers the best conditions for deep fishing than somewhere else. Norwegians themselves call this island of fishing paradise. The island is surrounded with Barents sea that is rich for trophy codfish and halibuts.

We recommend this stay to experienced fishermen with fishing practices on the sea, known their own potentialities and desire to get a trophy catch.
Accomodation
Sorvaer Gjestehus
Fishing center Sorvaer Gjestehus with adjacent cottages lies on the island of Soroya close to the village of Sorvaer, 60 km northwest from Alta city and about 150 km northeast from Tromso city. There is a lodging house – hotel with 10 rooms, a large lounge-hall, a conference room, a full equipped kitchen on each floor, a restaurant, a terrace, WiFi. The whole building is made of wood. There you can also find 4 full- equipped wooden cottages with capacity of 6 people each.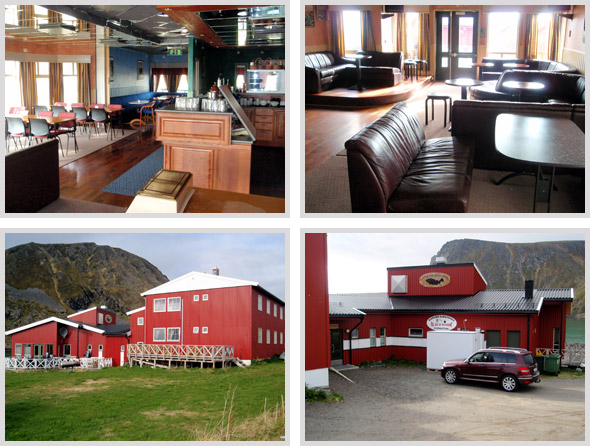 You can get full board meal plan or to cook by yourselves in an equipped kitchen: cooker, coffee maker, fridge, microwave oven, dishwasher, freezer, washing machine are available for you. It is possible to use the service of restaurant. (It is possible to arrange breakfast, lunch or dinner). The order has to be arranged sufficiently on time. In each room there is a level bed with a wide lower bed, wardrobe, table, shower and lavatory.

The landing stage is found 150 m from your accommodation and it is a part of sportive and fishing dock. There is a small house directly on the landing stage where you can find a covered fillet house. The freezers, space to save fishing equipment and clothes is available. You can also visit a local shop with a fishing needs.
There is a possibility to hire fist- class aluminum boats Arronet 7 m long with a steering wheel, electric starter, echo-sounder-GPS-plotter,VHF radiator and a motor of 135HP. The boats are equipped with gaffs for fish. Some visitors of the island use the possibilities of fishing on the larger boats Arronet ( 8,5m, 225HP) under the control of an experienced captain - guide. The boats for 4-5 fishermen are available (500NOK/hour).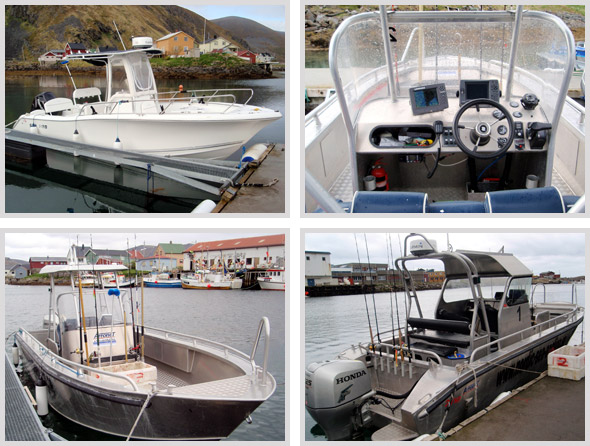 Fish hunting
The fishing season on the island of Soroya starts in the middle of April and lasts till the half of September. Soroya coast is important for trophy codfish (record 38,6 kg), but also big dark and onespotted codfish, sea wolves and halibuts are hunted here. (mainly in August and September). The local codfish population consists from artic ocean codfish that live at the coast for a whole year. You can fish snooks, and halibuts (right in the dock) too. Trophy fish regions are the most valuable thing of our visitors. It is not necessity to go far or deep to fish. Only a few minutes from the dock there are perfect fishing districts, some of them 20-40 metres deep!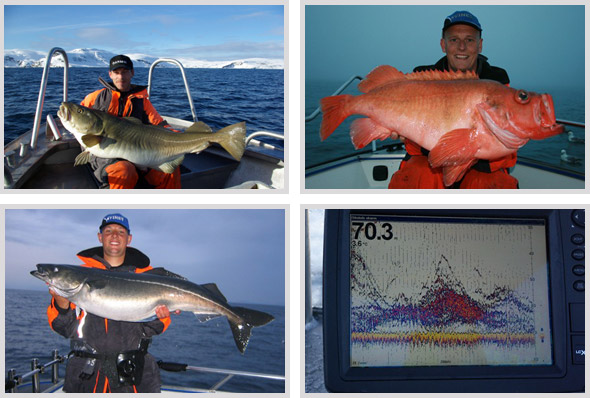 The most common technique to fish trophy codfish is montage of pirks 200-1000 g with leaders (grigs and small octopuses). Halibut hunters prefer jigs 500-700 g (fishing grounds are 50 m deep where strong streaming rises) and big twisters-rippers or dark codfish (weight of 0,5 – 1kg) as fishing baits.
Spining is effectual for fishing along the coast and in shallow places, in the places with higher water stream and nearer to the growth of sea weed and skuas. Generally we use spoons and rubber lures.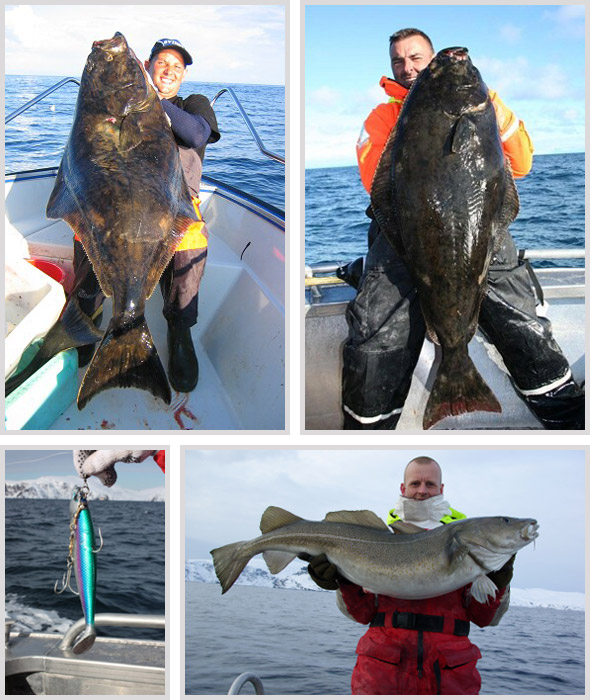 There are also a lot of lakes full of trouts and siveni on the island. The most common technique is spinning or false fly fishing. Draughts are about 0,5-3 kg. Fishing licence costs about 300 NOK.
Motor boats
Boat drivers with date of birth 1.1.1980 or younger need to own international valid driving licence for motorboats longer than 8 meters and with motors above 25 HP. (captain licence).

Transport
You can take a car or go on the plane to the region (Taxi or a car transfer will take you to the fishing district from the airport). The most common flight is Prague-Oslo-Tromso-Hasvik. The prices of flight tickets are about 13000,-Kč / person including fees.
Plane – ticket prices are dependent on free reservation classes in a concrete flight. We recommend booking your flight in earlier time period.
You can also use our on-line reservation system where you can get profitable flight tickets.

We provide ferries for the way in a car according to the actual rates. The table of the most used ferries is found HERE
The connection to the island of Soroya is provided three times a day by ferry Oksfjord-Hasvik (1 hour), a way on the plane once a day from Tromso (about 800 NOK per person for one way). You can also take express boat from the town of Alta (1 hour).
Prices
The price 25000 Kč / person includes: round flight ticket Oslo-Alta , transfer Alta-Sorvaer and back , ferry, 7x accommodation, rent of the boat , final cleaning, sheets and towels , service of the fishing instructor in the place of stay.
The price 18500 Kč / person includes: 7x accommodation, rent of the boat , final cleaning, sheets and towels , service of the fishing instructor in the place of stay.
We calculate the prices with capacity of minimum 4 people in the cottage.
Accommodation in a main building (rooms with breakfast): extra pay 4500 Kc / person / week.
The rent of cutter Arronet( 8,5m, 225HP) with a guide for maximum of 5 fishermen: you pay only petrol for the first way of fishing.
The rent of swimming jacket : 1200 Kč / week.
Other services
Transfer from the airport Alta to Sorvaerstua and back including a ferry is possible to provide for the cost of about 30.000 Kč for a group of maximum 7 people, the price for a a group of maximum 20 people is about 56.000 Kč (Both ways and ferry is included).
Transfer from the airport of Tromso to do Sorvaer Gjestehus and back including ferry is for the price of 72.000 Kč for a group of maximum 20 people (Both ways and ferry is included).
Transfer on the personal boat from Tromso to Sorvaer (4 hours on the boat) is available for the cost of about 110.000 Kč for the group of maximum 20 people (the price is for one way).
We can also provide the night in a hotel in Oslo or Alta or Tromso (about 1.500 Kč for a person for a night in a two-bed room, breakfast is included).